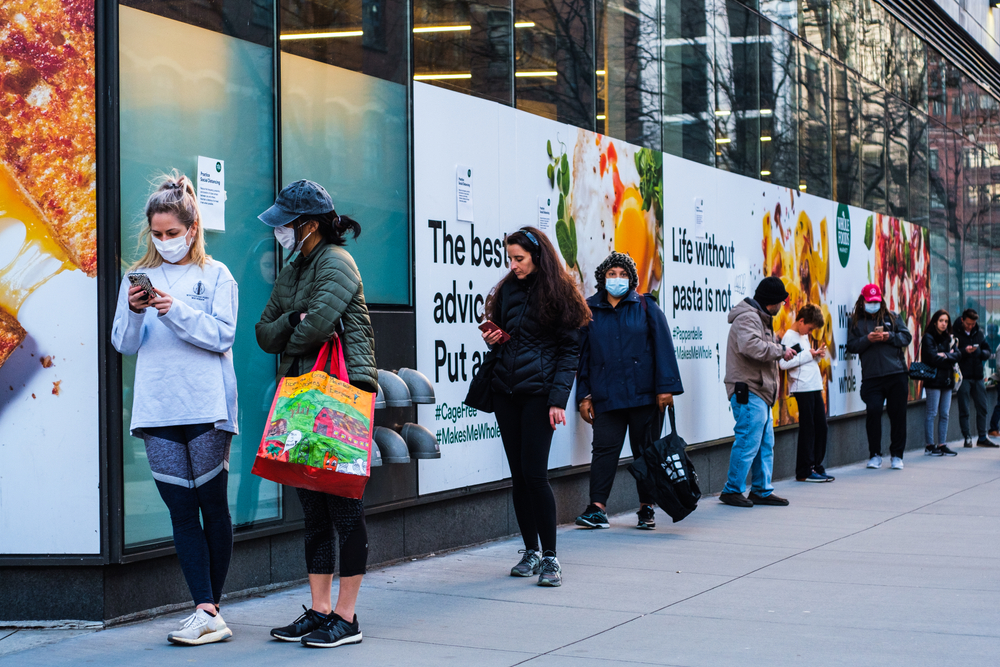 This year we've had to ask ourselves unprecedented questions like, What month is it?…Is my mask on upside down?…Did I wash those bananas already?…Where is Kelly Ripa quarantining? Looks tropical…
Another burning question on the minds of business owners across the globe is: What will holiday shopping be like this season? Even the analysts are unsure. In fact, Deloitte recently published a double scenario outlining two possible outcomes: 
In Scenario A, sales are flat, with 0% to 1% growth. People remain anxious about their finances and health. Schools remain closed. There is no effective vaccine. Unemployment increases. The insurance benefit expires and there are no plans for additional fiscal stimulus. 
In Scenario B, sales are up slightly, increasing 2.5-3.5% from last year. There is more confidence in public health and the economy and funds earmarked for travel and experiences are reallocated, bolstering retail sales.
Whatever happens, we can predict a handful of holiday shopping behaviors with some certainty: 
There will be more competition for fewer dollars overall

More shopping will be done online

Shopping will be consolidated to fewer stores
Knowing this, what are some strategies companies can adopt during the COVID holiday season that will not only help them survive through the end of the year, but will set them up for success when this is all over?
We've hand-picked a few examples from our own clients to share, each focusing on a specific type of business with a specific objective.
Grocery
Objective | Manage a high volume shopping period while limiting the number of people in store
Solution | Encourage purchases of non-perishable items in advance of the holiday rush. Focus on active shoppers with high frequency, and promote packaged baskets of items, both in communications and in-store using POP displays. Consider non-traditional entertaining scenarios, for example smaller turkeys for Thanksgiving and packaged drop-off meal ideas for family members who cannot attend festivities in person.
Retail
Objective | Incentivize behavior without offering direct discounts

Solution | Run a points multiplier campaign during the period leading up to the holiday. For example, offer 2X or 3X points for an in-store purchase, loyalty sign-up, category purchase, referral or other meaningful action. Proven to shorten the time between visits, encourage repeat purchases and increase order value, these campaigns are a great alternative to monetary discounts – something many retailers cannot afford during these uncertain times.
E-commerce
Objective | Forecast ROI by attaching revenue to email marketing

Solution | Promote specific products with an email (or SMS) campaign that includes a value based incentive, i.e. 2X points. Use attribution reporting to learn who purchased the SKUs after receiving the email and whether they were incentivized by the points offer or the message itself. Calculate revenue per email and learn which customers respond to the offer vs the content in the message and segment them accordingly for future messages.
Wellness
Objective | Drive holiday traffic with contactless gifting

Solution | To generate goodwill and repeat visits, several clients in the beauty & wellness space have implemented "thank you for shopping during Covid" campaigns, emailing everyone who visited during 2020 an eGift card to redeem during the holiday season. Customers can redeem the value of the contactless card via email lookup at checkout.  A popular acquisition strategy for many salon and spa service providers lets customers "buy $100 worth of services for a friend and get $20 for yourself" also using eGift and contactless redemption.
Cannabis
Objective | Identify and manage churn amid atypical buying cycles

Solution | Cannabis customers can be an elusive bunch, but it's fair to say that all COVID-era customer behavior is a bit murky. Our cannabis clients rely on machine-learning-driven Clutch Powered Segments to accurately identify active, inactive and churning customers. Their campaigns focus on engaging at-risk segments with content designed to recover the business before it's too late. For example, they might send an exclusive offer to previously active customers who have not shopped with them in a while. Or they might reward active customers with a freebie to keep them coming back during a competitive time in the market.
_____
We all have anxieties about the uncertainty of the coming months, but the good news is that these strategies are simple and effective ways to support growth in any environment. Many great companies were started during the worst economic conditions in history – Hyatt, Microsoft, Uber, Warby Parker and Trader Joe's to name a few – and if history tells us anything – the COVID-era is likely to define tomorrow's market leaders.
So make sure you're looking at the challenges we face today as a way to create success in the future and try some – or all – of these tactics to drive revenue this holiday season!
Be in the Black this Holiday Season