Marketing Orchestration
Email and mobile platforms have come a long way, but most brands are still using dated tools.
See what's possible
when you can focus on the message rather than just sending it out
See it in action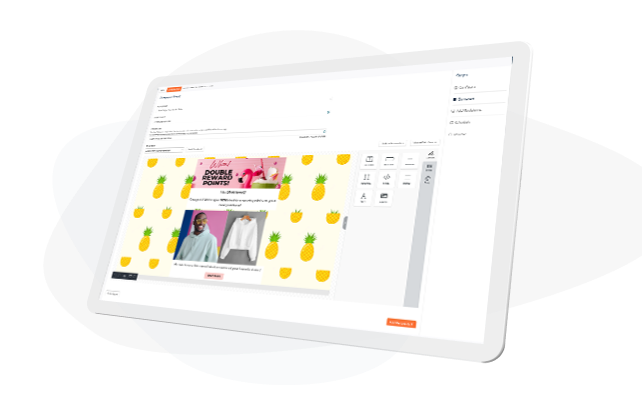 Marketing Orchestration
Spend more time creating great content. Avoid costly integrations, save time, money, and resources with fully integrated communication tools.
Relevant, Agile Marketing Automation
Create precise audiences and customize content in real time with live customer data and actionable performance metrics. Clutch's embedded Machine Learning tools power email and sms that manage churn, stop fraud and improve outcomes.
Design Without the Coding
Marketers can design every detail of the customer experience with Clutch's drag-and-drop editor and smart asset manager. Publish and send out engaging formats like scratch-offs, contests, conversations and other gamified content in minutes.
Franchise & Location Management
Flexible controls and permission sets meet the needs of different business structures. Enforce brand consistency and compliance while empowering individual locations or brands to manage messaging for their audience.
Scalable 1:1 Personalization
Employ transactional and behavioral data in messages to cater content for each individual customer.
Intuitive Design Templates
Create innovative content with our drag-and-drop editor and pull from our easy-to-use templates and on-premise asset storage.
Scheduled or Triggered Emails
Initiate or respond to your customers in real-time with targeted event triggers.
Mobile Marketing
Industries across the board are adopting SMS as an integral part of their communication strategy. Whether your customers are enrolling in your program, checking their stored value balance, or redeeming an offer, the real-time nature of mobile is an easy and effective way to get noticed.
Boost Engagement
Delight customers with visual formats that are hard to ignore. Images, videos, GIFs, scratch offs and gamified content can set your brand apart.
Scheduled or Triggered Messaging
Initiate outreach in advance or respond in teal time. Unify the experience with valuable content about transactions, expirations, new rewards and more.
Secure, Compliant SMS Double Opt-In
TCPA and GDPR compliant messaging and secure data management are core to the Clutch platform.
Already have an ESP or Mobile Messaging Platform? No Problem.
Clutch's open API framework integrates easily with outside content delivery tools, so teams can leverage Clutch's Machine Learning driven CDP, Loyalty, Offer Management and Stored Value solutions with their own tools. 
Enhance the Customer Experience With Clutch's Suite of Integrated Solutions